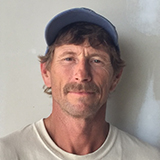 When Ted was 12, his dad would let him run heavy equipment on the weekends. He fell in love with the work and immediately decided to devote his life to working in the construction industry.
Ted has built just about every type of building, but his favorite project was a nursing home that he and the team were able to complete four months early.
Ted loves his family and loves his work. Luckily, his family supports his passion for work, so he feels his life is perfect!
"If you don't learn something new each day, the day was a waste." Unknown