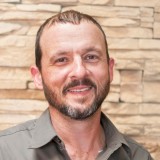 Shannon began his construction career in 1994 managing blasting operations for Mesa Construction in Cotopaxi, CO.
His favorite projects include Pizza Republica in the Colorado Convention Center, L'Occtaine in The Shops at Wailea in Maui, and the South Fork Golf Course.
Shannon is originally from Valdosta, Ga. and enjoys snowboarding, hiking, and cooking.
Shannon was in the U.S. Navy for six years, four of which were sea duty. In that time he visited six of the seven continents of the world.
Mastering others is strength, mastering yourself is true power." – Lao Tzu