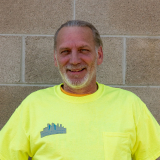 Bill started working when he was very young.  At 14,  he worked full time at Folsom's Sea Food Restaurant and Market in Boston Massachusetts . He started as "dish dink"( that is old school for dish washer), and by the age of 16 , he was working as assistant chef. He can hardly remember anything except, the permeating smells of the fish market. It was a great experience. He learned from the best but it was a very stinky job!
Bill's true passion turned out to be woodworking. In 1984, he opened his company Fine Line Finish Inc. in Groton Ma. Custom woodworking and remodeling was very exciting,  challenging, and profitable.  In the early 90's, the market in the east was in shambles. Relocation was inevitable. His brother Bob, already living in Arvada, encouraged him to make the big move west. Best advise ever!  In 1992,  Bill relocated to Arvada and continued on for the next 25 years to expand his company and his craft. So many projects!  The best part of creating custom works and remodeling projects was not so much the check, but the true joy and appreciation of that customer. It is priceless!
Unfortunately,  in 2013 Fine Line Finish had to close the doors. This was a very difficult decision. 
So here he is!  Bill has is excited about his career with Mendel & Company and can't wait to see what the future holds. Working with so many people is definitely a change, but what a great change.
…in the words of his departed friend Harry C. Richards  
Buy the ticket?  Take the ride!"  "Priceless !!!"